The Buzz About Salito's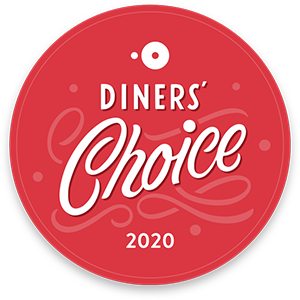 The Colorado Rockies visit the Crab House at Pier 39.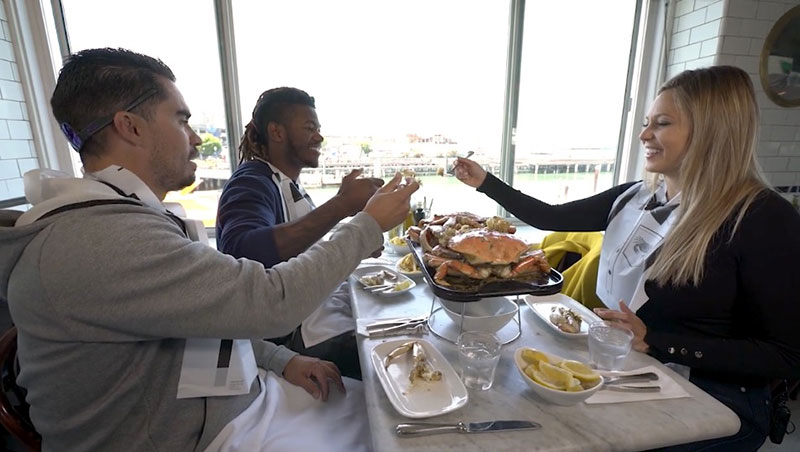 Click here to watch at Vimeo.
Travel writer Willa Grey visits Salito's Crab House, read her story here.
Pacific Sun -
"Over the years, the Sausalito spot that is now Salito's Crab House and Prime Rib has seen a number of restaurants come and go, including the '70s singles-scene restaurant and bar Zack's by the Bay (some of its signs are still up on the walls), Margaritaville and, most recently, Paradise Bay. The location is practically perfect..."


"Walk inside the new Salito's — once occupied by Paradise Bay, Margaritaville and Zack's — and wait for the memories to come flooding back. The great square of a bar is just as it was and the view across Richardson Bay is as stunning as ever. Walk past the new oyster bar, replete with a chef dedicated solely to bringing the briny sweetness of these little gems to light, and you know things have changed.
Oysters are just the tip of the seafood iceberg here. Crab is the headline grabber but ample room is made on the generous menu for mussels, shrimp, squid and fish in numerous combinations.
Get your protein jag started with a combo, mussels, shrimp and crab legs served searing hot on an iron skillet with drawn butter. The mussels were meaty yet tender, the crab legs, served cracked, were light and savory but the shrimp, petite next to their brawny brethren, tasted somehow smaller, too. The fragrant loaf of house-made kettle bread, served in a cast-iron pan, was perfect to sop up the shellfish liquor.
A glass tumbler filled with seafood fork, cracker, soup spoon and bib added a charming touch to the skillet service, and lacked only a pick — a utensil small enough to remove every last piece of that luscious crab from its calcium-encrusted appendage.
Yellowtail carpaccio, so finely sliced as to be translucent, dressed in extra-virgin olive oil and a splash of ponzu, was silky and fresh; a dusting of cracked salt and slivered chives added pop.
Prime rib was served as rare as possible with sides of jus and horseradish dip This well-marbled true prime cut is minimally handled as befits a stellar slab of beef and barely needed a knife to slice through its lithesome, pink center. Potatolitos, mini white potatoes first baked, then fried and smashed, accompany any steak or order as a side dish.
Should you prefer something lighter on the stomach or the wallet, the crab appears as a hefty sandwich with avocado, green onions and lemon oil, dense with large pieces of crab and refreshingly free from mayonnaise; the prime rib checks in as a Phillywich, stacked with grilled onions, hot and sweet peppers and cheddar cheese.
The crab enchilada, thick with crab, mild green chilies and cheese, was enrobed in a chili-inflected red sauce that could be Italian; the drizzle of mildly spicy tomatillo sauce was pure Mexicano.
The large salads offer a welcome respite from all that protein. Go for the classic Caesar, and revel in the garlicky goodness of the croutons and the nutty Oro Secco cheese. Aged for 24 months, the cheese was first flaky like similarly aged Parmesan, then slowly "melted" and brought an additional textural element to the dish. The salad of organic golden and Chioggia beets with a bit of goat cheese and toasted pumpkin seeds, was all about the small-dice beets, spunky with a peppy vinaigrette.
And no meal here is complete without the house-made beignets and a piping hot espresso.
The menu goes on and on — cheese and salumi boards, more house specialties, various pasta and seafood combinations and additional fish preparations. Since it's served all day, you are practically guaranteed to find something to suit your mood and appetite.
There is even a children's menu where the fish and chips was speedily served (thank you!) and enough food for a big kid, too. In fact, all portions are substantial and the menu is designed, according to Froncillo, to be more rustic, more family-style.
This family-style approach also applies to the wine menu where choices are arranged according to price rather than varietal.
The high-ceilinged, sparely decorated rooms are washed in white with mirrors on the walls facing away from the water so everyone has a great view no matter his or her seat selection." click here for entire article